Hluboká nad Vltavou - Castle
Accommodation, apartment Hluboká nad Vltavou
Location:
Apartment No.455 si situated 10 km north from České Budějovice. Apartments is ideally located near Hluboká nad Vltavou city centre as Hluboká nad Vltavou - Zámostí Station and the bus station (bus number 320170) are within easy walking distance or a short taxi journey. Amazing location!
Rooms:
We offer two quiet, comfortable and sunny double rooms. Rooms are luxuriosly furnished and beautifully decorated in keeping with tradition and offer the warmth and comfort expected by the modern traveller.
Views over the garden and Hluboká castle. Rooms No.2 with extra bed.
Enjoy our attractive walled garden. We will always be happy to provide you with sightseeing information, and excellent choice of local restaurants, cafe's and pubs. The foodstore is 100m. WiFi internet connection.

We also offer secure parking in our drivery.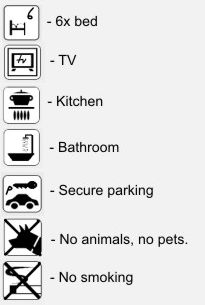 Available for short term or long term lets.
We operate a no smoking policy throughout the house.
No animals, no pets.
Perfect for groups or solo travellers.

Property facilities:
No breakfast
On site parking
Bathroom facilities
Common lounge and kitchen with sink,
electric stove, microwave, and fridge freezer.

Prices:
Payment only by cash.